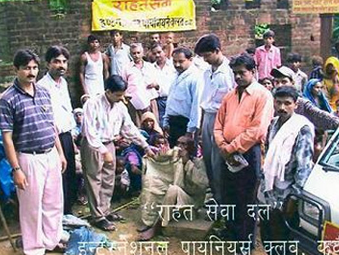 'One who is born is destined to die one day'-- the famed saying of the Hindu scripture Gita, was taught, though, to Arjun by Lord Krishna with a view to inspiring him to perform his duty of fighting out the battle, the teaching is a universal truth and it is a message which inspires the world to be dynamic in its action. This inspiration proved true on 11 Aug,, 1969 when a man stepped on surface of the moon for the first time in the history. The same day another important event took place i.e. founding of the 'International Pioneers' in Ramnagar, a small township situated at the foot of Kumoun hills in Nainital District.
This institution proved a milestone in the history of NGO not only in U.P., but throughout India and abroad with its highest aim of service to humanity,
International Pioneers is purely an Indian institution for social service. It was nurtured in the Indian soil and its buds bloomed according to the Indian culture, civilization, ethos and traditions. Its aims and objects are so lofty that the people are easily attracted towards it. This institution is committed to the service of people of weaker sections of the society, destitute, orphans and handicapped; the organization serves them earnestly. The aim of our institutions is to nurture socialism irrespective of caste, creed or religious discriminations.
International Pioneers has become a gigantic tree with so many branches that are busy in the service of humanity through various programmes from time to time. Our Programmes and Projects include helping the flood- victims and drought-hit people, help of handicapped from time to time in various programmes, and also running of the blood bank, oxygen bank, Home colonies, Rural libraries, Ambulance service, Model village development, besides symposia and debate competitions for the school and college students, All India Drama competitions, and many other social service projects in the service of humanity. We organize Blood donation camps, Free Eye camps, scholarship programmes and so many youth programmes also